Divorce Rates Surge in Coronavirus Quarantine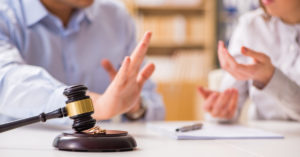 The great disruptor, COVID-19 has insinuated itself into nearly every facet of American life. It's even blamed in part for a recent spike in divorce rates.
Across the country, divorce and family law attorneys report a growing number of couples are taking action to dissolve their marriages. Others are inquiring, according to ABC News. This appears to buck the trend of declining numbers of divorces since 2008. The current divorce rate nationwide among first marriages ranges from 40 to 42 percent.
New Beginnings Family Law is Huntsville's solution when divorce becomes part of your plans. We provide a comfortable, supportive environment where you can feel safe to talk about your situation and formulate goals for a more confident, fulfilling future.
Contact us now to find out how we can help you build a better tomorrow.
Lockdown's Effect on Marriages
Spurring the increase in divorces appears to be forced togetherness spurred by stay-at-home orders to stanch the spread of the novel coronavirus. It pushes couples to co-exist nearly 24/7, possibly for the first time and perhaps in tight quarters. Personal habits become exaggerated and tensions increase.
For marriages teetering on the brink before, the confinement could push them over the edge. Underlying conflicts that have been suppressed before are rising to the surface.
Adding to the frustration are families in which parents are homeschooling, sometimes while trying to work from home or, even worse, being out of work.
Others find that the slowdown in the economy has given couples time to contemplate their future. They come to terms with their own mortality and want to make changes that will fill the void that may exist in their relationship.
For those cheating on their spouses, the quarantine keeps them stuck at home, unable to see their paramour. Their only option is to communicate by phone, creating a trail of infidelity that private investigators can exploit.
The United States is following the divorce trends of China, which experienced the coronavirus a few weeks before and is seeing its divorce rates skyrocket, according to a Fox News report.
There's a line of thinking that as our nation is more polarized, marriages are too. Couples are less willing to compromise, find shared joy, work things out. Differences become amplified. Sadly, this leads some to resort to acts of violence against their spouse, their children or both. Sadly, domestic violence is a component of many break-ups.
Can You Still Get Divorced During the Coronavirus Pandemic?
As their frustrations boil over, some divorce seekers are ready to rush to the courthouse, documents in hand, freedom on their minds. They are thwarted by the grim realization that many courthouses across the nation are closed due to the pandemic and have been for some time. This forces them to take a back seat behind the backlog of cases that have accumulated over the past few months.
Timing could be critical from a financial perspective. For instance, on the day a divorce is filed, the value of some of a spouse' most valuable assets – a business and self-managed stock portfolio – could become set in stone. It may be advantageous to file sooner, before values rebound to their pre-COVID-19 levels, rather than later.
Contacting our divorce lawyers now can help put you in the best position to pursue a divorce settlement that protects your rights and sets the foundation for a positive tomorrow.
Tips for Dealing with Divorce During Quarantine
Worries about the impact of divorce on your children, friendships and finances can dominate your life. At times you may feel hopelessly overwhelmed. The first and most important action to take is to hire a lawyer who is experienced in family law and divorce proceedings, one who is passionate about representing your interests to the fullest extent of the law.
At New Beginnings Family Law, we come to your situation having been personally involved in divorces, as a spouse, as a child of divorced parents or as being involved in some sort of custody situation. Your children's well-being now and the future is at the forefront of all we do. We are Guardians ad Litem, appointed by the court to work in the best interest of the child in custody cases. We always work to ensure that the child is in the best hands. At our core, it's who we are.
Divorce is complex. It can be lengthy. It takes a toll on you, your family and friends. We take the burden off you, offering the support and guidance you need to bring divorce to a successful conclusion. Count on the New Beginnings Family Law's team to:
Objectively review your case from every angle to develop a smart strategy for moving forward.
Push toward a satisfactory resolution before your case goes to court.
Provide strong and relentless courtroom advocacy if your case must go to trial.
Always put the needs of your children first.
Make ourselves available anytime you need to talk.
Truly sympathize with your situation, because many of us have been there ourselves.
Contact a Divorce Attorney in Huntsville Today
Although divorce is a key focus of our practice, you can look to us for help with other legal issues as well. We have experience in child custody, child support, adoption, mediation, estate planning and matters involving children with special needs.
We hope you'll explore other areas of our website and become informed about the issues relevant to your situation. You'll find video interviews, podcasts, a blog, a question-and-answer section and more. We think you'll be intrigued.
Call us today for a consultation and for peace of mind during this stressful time. We look forward to hearing your story and setting forth together on a path toward a new life, new direction, new beginnings.